UK 76GHz STATIONS: as at May 2000
At the RSGB Microwave Round Table Meeting, held at the Rutherford Appleton Laboratory on April 6th, 2000 there were no less than four working 76GHz transvertors on display! Here are photos of three of them .....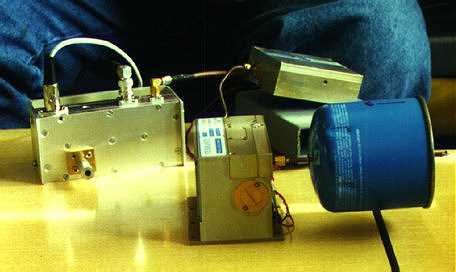 PHOTO 1:
Left is G8ACE's transverter, in the milled box. The right foreground shows John's, G8ACE's, 76MHz signal source, a diode array driven by a PLL "brick" and using an empty Camping Gaz container as a reflector!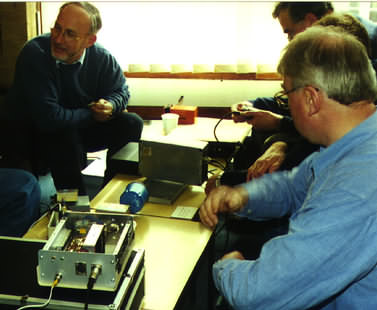 PHOTO 2:
Left rear: Chris, G8BKE.
Left foreground: G3PYB's 76GHz transverter.
Center of photo: G3FYX's 76GHz transverter.
Right foreground, Peter G3PYB.
Right rear: Roy, G3FYX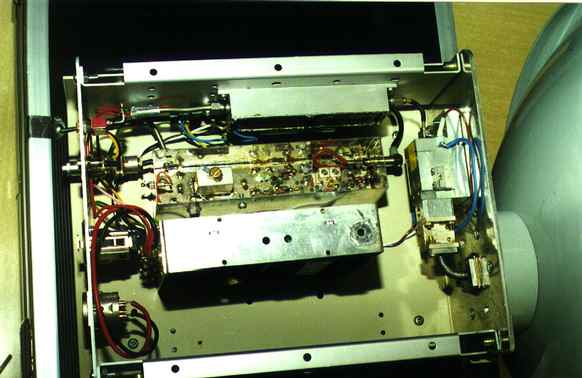 PHOTO 3:
The inside of G3PYB's 76GHz transverter.
This uses a Russian multiplier module to
produce the final output (on right side of box).











PHOTO 4:
G3FYX's 76GHz transverter, using
waveguide coupling between the
oscillator and the mixer.








PHOTO 5:
Inside the 76GHz transverter constructed by Chris, G8BKE. This is a DB6NT design.

---
---