ADASTRAL PARK MICROWAVE ROUND TABLE REPORT
(held at BT Adastral Park,Martlesham, Near Ipswich, Suffolk)
12 November, 2000
Photographs by Adrian Ball, G8PSF
Sunday, 12th November, saw some 80 or so microwavers from the UK, Eire, Germany, Netherlands and the USA gather at what was formerly known as the Martlesham Round Table. This year, many of us made it a whole weekend and travelled down on Saturday morning in time for settling in at the Courtyard Marriott Hotel, some five minutes drive from BT's Adastral Park complex. The hotel was to be the venue for the dinner and general social evening. Saturday afternoon at BT was reserved for testing and measurement, the writer seizing the opportunity to check out his 6cm transverter noise figure.
A surprisingly large contingent attended the Saturday session and the evening dinner. The increasing popularity of the two-day meeting bodes well for future events of this kind. Maybe this could be the start of something on the lines of the USA's Microwave Update? However, to reach the latter's standard, a UK event would need considerably more input in the way of speakers and "fleamarket" items as well as a location with easy access to suppliers of surplus microwave and UHF gear.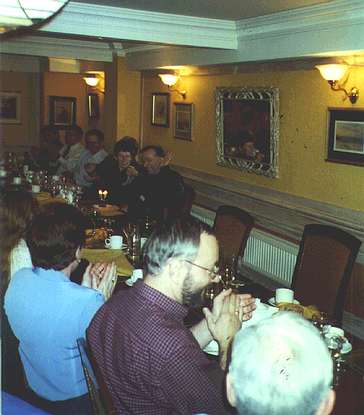 The dinner evening was a most enjoyable social evenT, though several folk were not too impressed with the meal. Rainer, DF6NA, (shown here 3rd from the right in the photo)was most surprised when a waiter brought out a small cake to celebrate the microwaver's 46th birthday! Some late night nattering went on in the bar long after midnight, so it was with some effort that the writer got up at 0700 on Sunday morning to ensure an early arrival at the microwave meeting …. something about "an early bird catches the flea [market]" !


Sunday had a good programme of lectures as well as several fleamarket tables. Some of the prices at the latter seemed a little higher than last year but there was much of interest, including a very nice Amritsu test set which contained a DC-18GHz power meter, a frequency counter with 1Hz readout at 10GHz and a plug-in oscillator module of around 2GHz. GH Electronics displayed their 23cm amplifiers and components. G4KNZ had a table of very reasonably priced items, including millimetre wave odds and ends as well as a wide range of ATC chipcaps.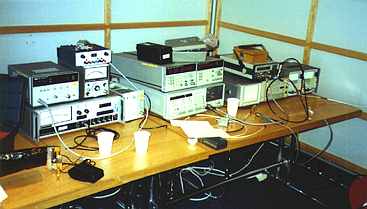 The test gear (some of it shown in this photo) was heavily used on Sunday and a good range of equipment was available, courtesy of G8KMH, G8DKK and BT. It was most interesting to see the various 47 and 76GHz transverters being tested. Hopefully we will soon be able to publish the official tabulation of equipment noise figure measurements made during the weekend.



The lectures included a most interesting account by Chris, G0FDZ, of his many years of microwave expeditioning to Guernsey. Even though his equipment has become more powerful since the 1970s, he finds it more difficult to work across to mainland UK as super-refraction conditions seem to have declined in recent years. Chris is to be admired for his ability to cram gear for four or five microwave bands and a family into a saloon car for his holiday to GU-land!
Another interesting and witty talk was given by Kent, WA5VJB. This time it was on antenna test ranges. Kent showed us how relatively easy it is to set up such a range at a microwave meeting. We hope future UK events will have this facility.
DL4MEA gave a valuable talk on the problems and solutions to effective sequence TX/RX changeover at UHF ….. very useful when you run high power!
At lunchtime, there was a Contest Forum session run by G3PHO. In spite of declining contest log entries, the general mass of operators still wish the contest programme to run, believing it to be the most productive means of getting activity on the microwave bands.
Other talks, not attended by the writer, included G8LSD on the UK Microwave Group Component Service and G4FRE on his beacon keyer project. The day finished with the annual general meeting of the UK Microwave Group. A report on this will no doubt soon appear on the group's webpage.
As an attendee, I would like to thank the G4MRS folk, in particular John G3XDY, for putting on the usual excellent event. A special word of thanks is also due to the man-behind-the-food counter, Iain Moffat, G0OZS! He is there every year, providing us with endless cups of coffee and excellent sandwiches. Iain's efforts are much appreciated.
See you all there next year!

---
---