---
ROY ~ G3FYX
---
Roy lives in Bristol, in the West country and is a keen all band microwaver. Being retired from work he finds microwaves a wonderful hobby to keep him active. He operates from home and portable on 10GHz narrowband and has engineered the 24GHz microwave beacons, for the Isle of Wight (GB3IOW) and Cardiff (GB3AMU). He is a very keen exponent of 24GHz and, lately, 47GHz. The photograph shows him at Martlesham '97, next to his 47GHz wideband FM transceiver.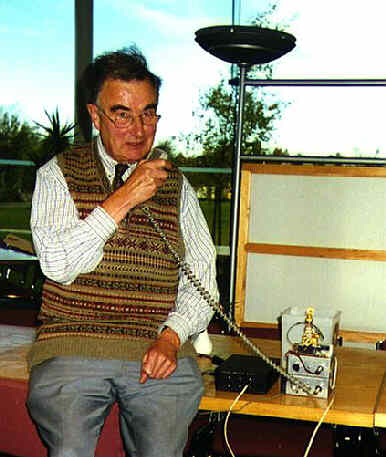 His 10GHz portable forays are usually in the company of his long-time friend Tim, G3KEU, while for 24GHz and 47GHz he travels around with Phil, GW3PPF.
.The 47GHz equipment, like most of those presently in use in the UK, is based around a 100mW Gunn module by MA/COM. This feeds a cross-coupler type mixer using a Hewlett Packard diode detector. The receiver IF is 10.7MHz. This equipment feeds a 14 inch diameter dish antenna. Waveguide 22 is employed here so that 24GHz can be fed through it and used to line up the antenna ready for 47GHz tests.
Roy is co-holder (along with G4KNZ) of the UK 47GHz record, 65km, set up on the 25th October 1997.
---
---