---
THE G0HNW 47GHz
UK
RECORD BREAKING EQUIPMENT
---
The following notes outline the equipment used by Paul Widger, G0HNW, to establish a new 47GHz UK record over the Easter weekend in April 1999. Paul is a "no frills, no messing about" experimenter, preferring to get on with the job of building and then operating the necessary equipment rather than spend months thinking and theorising about it! The proof of his philosophy is evident here, as his gear certainly works!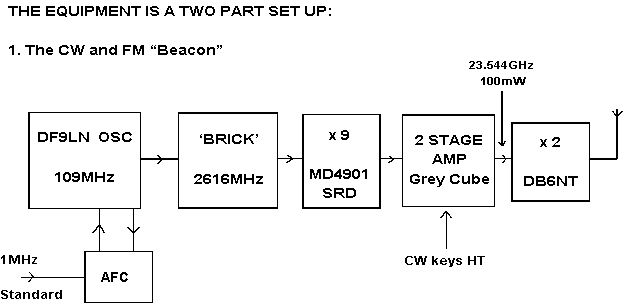 The DB6NT doubler used in the beacon is mounted directly at the dish focal point. The output of the "Grey Cube" (23GHz DMC module) is enough to allow coax to the doubler input. The dish f/D is 0.375 so 4mm i.d tube made an ideal circular horn feed.

The beacon can be used alone as a test source or as a higher power TX with a transverter. It can also be locked to my external 1MHz, ovenized crystal oscillator, slightly offset, to give an accurate marker at 47088.100MHz.

Surprisingly I found the DB6NT 23.5/47GHz doubler will act as a power mixer! At the monitor point feed in a low frequency. I even tried 10mW of 3.5MHz and 100kHz. This resulted in a little less that 1 milliwatt of SSB output !!

2. Transverter

The following diagram shows the simple 47GHz transverter which utilises my existing 24GHz transverter. This serves as a driver/oscillator to feed the DB6NT 47GHz subharmonic mixer. It has a built-in 144MHz source and is used in the TX mode in the 47GHz application. An IF of 1297 to 1296MHz is used, with reverse tuning. There is a lot of RF in reserve using this method and thus less new gear has to be built to get on the air, avoiding the possibility of having to throw away newly built modules that do not work properly! Operators with rigs that will not tune below 1296MHz can alter the 144MHz source in the 24GHz system to suit. A 144.500MHz source will give 1297 - 1296MHz IF.

The 24GHz dish is also used on 47GHz. It is first aligned on the other station using a 24GHz signal. Thus dish headings for 47GHz are "dead on".

The DB6NT mixer is a "cut down" version of the normal module ...... no multiplier (12-24GHz) or IF switching is necessary at the dish feed.

The output of the 144MHz source can be varied to suit the DB6NT mixer drive level. 20mW seems to be optimum for both TX and RX. 24GHz can be run on its own internal frequency standard or locked to a superior, external 1MHz standard for greater stability and accuracy.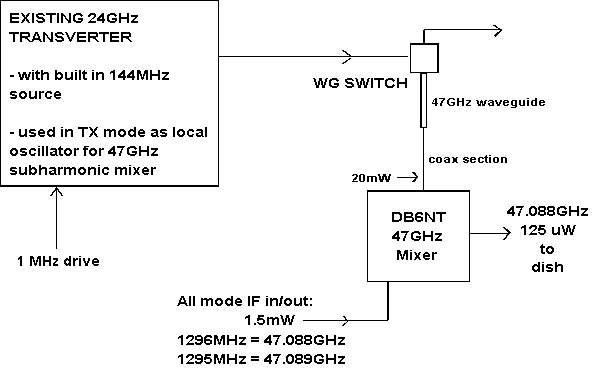 The Dish
This is a 60cm diameter antenna with a J hook feed, originally made for 19GHz. I modified it for 24GHz by inserting a length of 10mm i.d. tube whose outside diameter suited the J hook feed. It is slotted to allow the waveguide to enter and is fitted with a sliding short for match adjustment.


47GHz Spectrum Analyser
A " Grey Cube" Mark 2 mixer will act as a harmonic mixer for 47GHz. Feed 47GHz down a 4mm i.d. tube with transition to sma near an end with a sliding short (optional) and a probe of some 0.05 inches. Set a Grey Cube DRO module to approximately 23GHz to give an IF of 1100MHz, very suitable to "look at" on a basic Spectrum Analyser.

Results so far:
With the Beacon feeding 25mW into "open waveguide" only:
3.5km path (LOS) = 66dB fade margin
28km path (LOS) = 40dB fade margin (15mW of 24Ghz to open waveguide gave 46dB fade margin in this path)
Using the DB6NT transverter feeding 125 microwatts into a 60cm diameter dish:
Fade margin measured as just workable on CW. A 4dB increase gave easy copy.
Receive Tests:
1.4dB of sun noise measured at 47GHz. 0.5dB of sky to ground.
The 60cm dish appears top give 35dB gain over the open waveguide.
I do not know if the dish surface is good enough for 47GHz but it's all I've got!
UK 47GHz RECORD - click here to read how Paul used this gear to establish, along with G0IVA/P, a new UK 47GHz distance record.

---
---