MICROWAVE PROFILE No. 8
TIM LEIGHFIELD ~ G3KEU
(Became a Silent Key on 14 May 2002)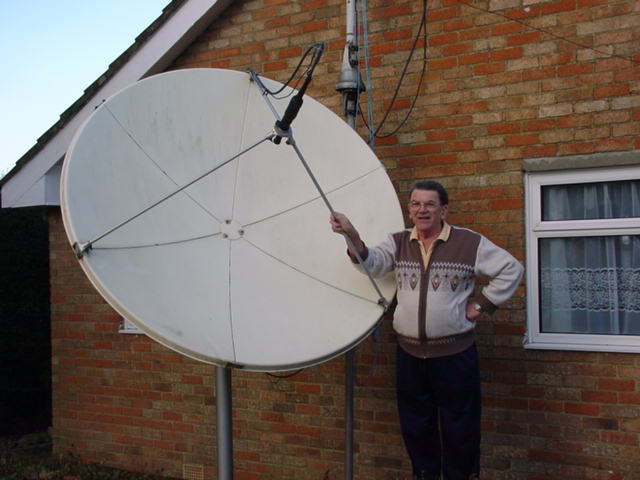 Tim, G3KEU, was a very active and well-known UK microwaver of many years experience. There are few UK 10GHz operators who haven't had a contact with him from his favourite portable location at Walbury Hill (IO91GI). He operated from there during most of the Summer microwave contests, in tandem with his friend of many years Roy, G3FYX.
The photo above shows Tim at his home in Swindon, Wiltshire. The large dish was not used for amateur purposes as it is part of one of Tim's other hobbies, satellite TV reception. The photograph below shows the more modest offset-fed dish used on 10GHz. Also visible are the 144MHz and 1296MHz yagis. His 10GHz station ran 10 watts output to the 60cm dish. Tim also had equipment for 1.3GHz and 5.7GHz and was seriously considering 24GHz before he become terminally ill with cancer at the end of 2001.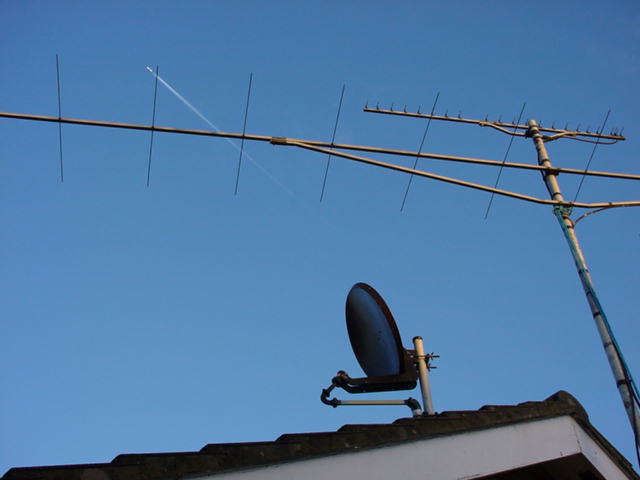 Tim prided himself on being a home constructor. He made his own pc boards, designed circuits and had a wide range of test equipment. He had long since retired from his work in the electronics business and wass now one of the most active microwave operators in the UK, maintaining a daily 10GHz "sked" with G3LRP over a 200 kilometre path between Swindon and Wakefield to the North for over 840 contacts in a two and a half year period up to the end of 2001. He also mades almost daily contacts with G0HNW, also around 200km away, in West Yorkshire, as well as operating on the Monday Microwave Activity Nights. Tim found the variable propagation on 3cm fascinating and the regular daily contacts with the two Northern stations provided him with much interesting information in this respect. Another regular sked was with G3VKV who is located in nearby Cheltenham. This contact was done by reflection from the radio tower located on Cleeve Common near Cheltenham. Once again many interesting propagation phenomena were observed this way.
On occasions you might have heard him signing as F/G3KEU for he has a son who lives in Northern France, not far from Eric F1GHB (whose photo appears elsewhere on this website).
Tim could be found on 80 metres (3625kHz) every morning, except Sunday, in the UK Microwave Net. This usually starts around 0815 UK local time and finishes around 0930. All microwavers are welcome to take part, regardless of their country.
All UK and UK Microwavers now mourn the loss of a great operator and true friend, Tim Leighfield, G3KEU.
---
---