---
LEHANE ~ G8KMH
---
Lehane has been on 47GHz for a year or two now, with wideband equipment based around the MA 100mW Gunn modules as used by other operators in the UK. Hopefully in the near future he will have narrowband equipment going on the band. A more detailed look at his narrowband project (including circuitry) can be found at Lehane's own millimetre wave website.
Lehane is a member of the RSGB Microwave Committee and is professionally engaged in the computer field. He is a long-time friend of Steve, G4KNZ, a partnership which has led to a number of interesting tests and contacts being made on the 24 and 47GHz bands.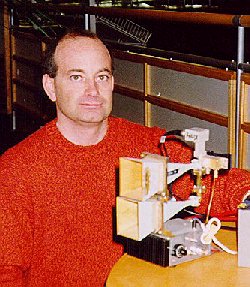 This photograph shows Lehane with his 47GHz wideband equipment at the Martlesham Microwave Round Table, held in November 1997. The twin horn antenna system is fed by a 100mW Gunn and HP diode RX mixer. The horns each have a gain of 27dBi.
The best DX worked so far is over 25km.
Along with Steve, G4KNZ, he was responsible for setting up the Microwave Committee pages at the official RSGB Website. These pages are recommended reading for anyone interested in microwaves.



---
---