---
SIMON ~ G3LQR
---
Simon is a farmer living a few miles north of Woodbridge in the beautiful Suffolk "Constable Country". His microwave radio shack is really something to behold! The visitor feels he is entering an Aladdin's cave, for the place is covered in all manner of microwave transmitters, receivers and test equipment. Outside is an array of antennas to rival any in the country!
Simon is one of those amateurs who seems to have "green fingers"! He makes all his own microwave gear and works all bands to 47GHz. He is well-located for making contacts across the North Sea to Continental Europe and holds several "Firsts" for various bands.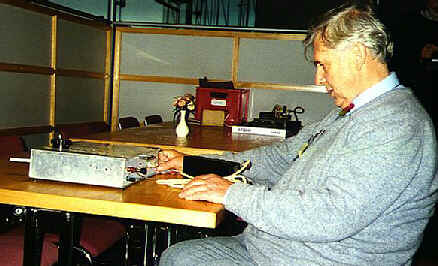 This photograph shows him at the 1997 Martlesham Microwave Round Table, adjusting his 47GHz narrowband transceiver. This consists of a DB6NT subharmonic mixer and 23.5GHz source. A separate 23.5GHz source and doubler are used on transmit, producing a 15 milliwatt CW signal only. The equipment feeds a 12 inch offset, WG22 fed dish. Due to lack of suitable longer path opportunities so far, his best DX on 47GHz is only 3km at present, but we feel it is a matter of time before he makes the first G to PA 47GHz contact!


---
---