---
N6TX - PAUL SHUCH - THE SEARCH FOR EXTRA TERRESTRIAL INTELLIGENCE
---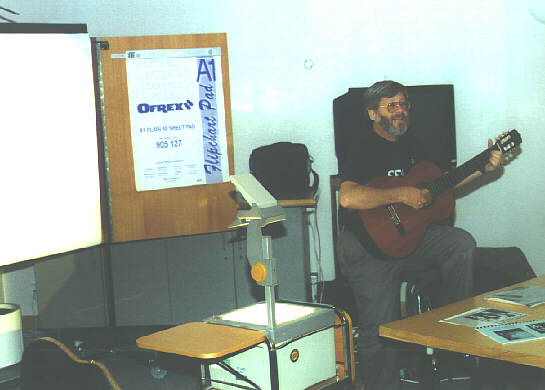 Paul is Executive Director of the SETI League. When the NASA SETI program was cancelled in 1993 Paul was dismayed at the prospect of this scientific research falling by the wayside. A year later the private SETI League was formed to carry on the Search for Extra Terrestrial Intelligence. The League is now doing what NASA was doing on just 1% of the old SETI budget! The League is a world-wide network of amateur enthusiasts using microwaves to explore space.
Listening to Paul's lecture at Martlesham, we soon realised that this man is serious! Most astronomers and space scientists now accept that there must be life elsewhere in the cosmos. If it is intelligent life like us (or more advanced) then it will most likely will have developed communication systems that can radiate beyond their own planet. The SETI League is a network of amateur enthusiasts, many of them keen EME microwavers. These people already have large dish antennas and receiving equipment that can be used to explore space.
The advantage of a large network of amateur listeners is that large areas of the sky can be covered, albeit with modest equipment compared to the multi-million dollar systems used by government authorities.The latter can only cover a tiny fraction of the sky at any one time but SETI's network covers hundreds of times more!
The "magic" frequency involved in this interesting program is 1420MHz, the "hydrogen line". Paul has several designs for receivers at this frequency.
The photograph above shows Paul displaying another of his many talents as he sings a SETI folksong to the audience at Martlesham '98. Book him for gigs in your town now! Bob Dylan had better watch out........
If you want more information on SETI, The Search for Extra Terrestrial Intelligence just click on this icon.
---

RETURN TO MARTLESHAM ROUND TABLE REPORT

RETURN TO FRONT PAGE
---