---
MICROWAVE TEST EQUIPMENT AT MARTLESHAM '98
---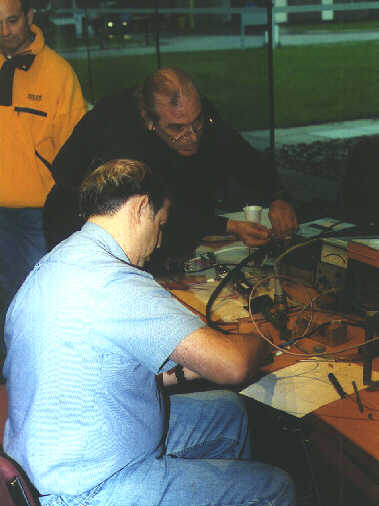 Sam, G4DDK, is shown here (seated) helping John, G8ACE, test his 24GHz RF amplifiers.
The test equipment at Martlesham is always of a high, state-of-the-art, standard and includes much that is not normally found in the average amateur workshop. Spectrum analyser facilities extend well above the 47GHz band and you can also check your receiver noise figure, transmitter power output and frequency with the rest of the top class equipment.
A prebooking system ensures that each user gets a reasonable amount of time using the test gear.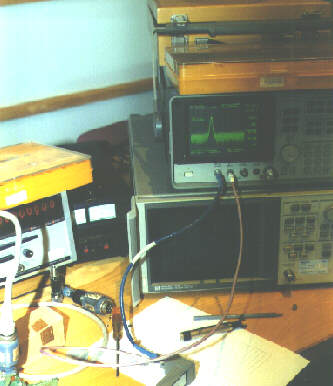 G8ACE's half watt 24GHz PA looks good on the analyser.
For many amateurs, the Microwave Round Tables held in the UK offer the only opportunity to check out their own equipment. They can they go home knowing what their equipment is capable of and thus able to calibrate their own, simpler test equipment with these benchmark readings.
---

RETURN TO MARTLESHAM ROUND TABLE REPORT

RETURN TO FRONT PAGE
---