---
G8ACE and his 24GHz RF AMPLIFIERS
---
John Hazell, G8ACE, has been experimenting during 1998 with some homebrew 24GHz PA designs based on pcb microstrip Wilkinson combiner/divider networks. Using NEC 325 series HEMT devices (cheaply available at under £3.00 each!) he has aready built amplifiers producing 125 milliwatts (two devices) 250 milliwatts (4 devices) and 500 milliwatts (using 8 devices).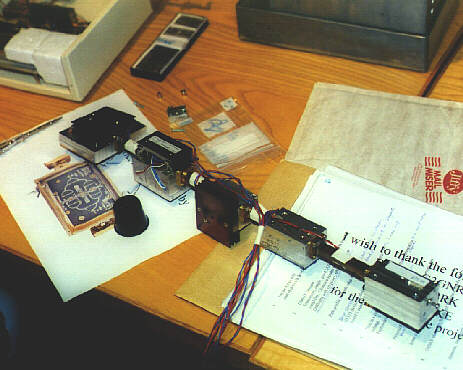 The amps are built on Rogers Duroid 5870 pcb and are rather unique in that almost 80% of full, potential output is available on switch-on, before any tuning of the board is done!
These designs are still in their protyping and beta testing stage but watch this website for further news!
You can also monitor John's own website for more information, pcb layouts and updates. Go to:
http://www.microwaves.mcmail.com
The photograph to the left shows the chain of modules producing the 500mW on 24GHz. One of the pcbs is visible and illustrates the Wilkinson combiner concept.


Here is another view of the same equipment. Note the use of waveguide coupling sections. These a a lot less lossy than sma connectors and semi-rigid coax at these frequencies.
Other constructors have found that the insertion of matching screws into these short waveguide couplers helps considerably.



---

RETURN TO MARTLESHAM ROUND TABLE REPORT
---