---
Martin, G7MRF/P with 47GHz equipment on Merryton Low
7th March 1999
---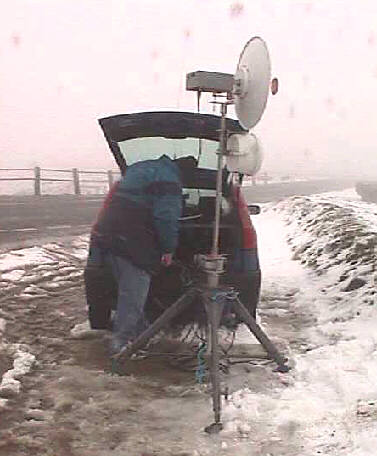 Martin is seen here, braving the winter snows at Merryton Low, in Staffordshire (IO93AD). He is using 24GHz (top dish) to line up his 47GHz antenna with Paul, G0HNW/P, who is 21km in a NNE direction near Bradwell Moor, IO93CH.

The 24 and 47GHz dishes both have cassegrain feeds.

Martin's site is approximately 480m above sea level. The weather is very poor... incessant drizzle with several centimetres of snow from the previous day still obvious .... hardly favourable weather for millimetre wave tests! However signals were exchanged over the 21km path, first an RS59+ crossband 47GHz/144MHz FM contact with G0HNW/P and then a full 2-way ssb contact at RS57, with G0IVA/P who left the site shown here to work alongside G0HNW/P.

Merryton Low is a popular site with microwavers in this area. Until a year or two ago, full access was available to the summit of the hill but now one can only operate from the roadside, if a car is used. Nevertheless it remains a fine location to work into Wales, the South West of England, South West Scotland and the east coast of Ireland.

---

RETURN TO 47GHz DB6NT PHOTO GALLERY

---