---
MEET G3PHO!
---

Amateur Radio Station G3PHO Peter Day, Chesterfield, England. Locator: IO93GG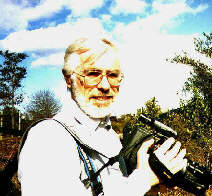 HELLO..........thanks for visiting my web site. I hope you find these pages of interest. Comments are welcome! There's a "mailto" address on the front page if you want to write to me. I was born in November 1937, just two years before the outbreak of World War II. During that war radar and microwaves saw some remarkable developments but I was too young to know!

I have been a radio amateur since the 1950's, first as a short wave listener and then as a transmitting amateur on getting my "ticket" in September 1961. The first few years were spent on cw and AM on the 1.8MHz to 28MHz bands. After getting married in 1965, XYL Judy and myself settled in New Zealand where I operated as ZL2BDA from 1966 to 1968. A return to the UK in 1968 brought us back to Sheffield where I met up with my good friend Barry, G8AGN. He introduced me to MICROWAVES! I had at last found my "niche" in the hobby!

The two of us built klystron transceivers for the 3.4GHz band and had a load of fun. In 1975 Judy and I (and our four kids!) returned to New Zealand and I became ZL2LA, Upper Hutt, near Wellington. There I got a couple of pals interested in microwaves and we worked a number of contests using 10GHz Gunn diode transceivers. Klystrons were still used on 3.4GHz.

1980 saw the family return to Sheffield, UK and I set up G3PHO at the present location. Microwaves form the main activity these days but they have had to compete with my other hobbies...video editing, mountaineering, running and mountain biking. In 1994 I took early retirement from my school teaching job and I am really enjoying myself! In November 2002 I reached the age of 65 years and officially became a "Senior Citizen" !I turned 83 years of age in NOvember 2020 and am now fining it hard to do things I did 20 years ago ... but I try!


WHERE DO YOU WANT TO GO NEXT?

MY STATION DETAILS AND OPERATING SCHEDULE
---