GM3PHO/ on the CAIRNSMORE OF CARSPHAIRN, 1987
This was a joint expedition with Dave, G(M)1BHQ/P to work the longest Line of Sight path in the UK.......... the 245km between the Cairnsmore of Carsphairn in Galloway, SW Scotland, and the summit of Snowdon in North Wales.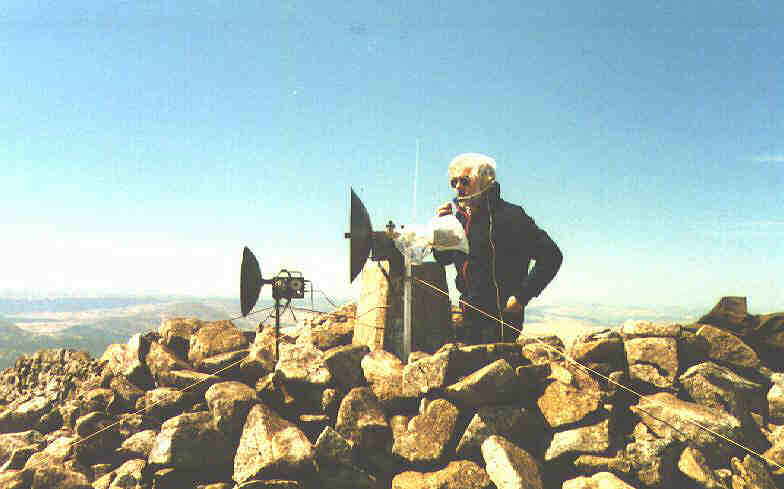 GM3PHO/P operating 10GHz wideband FM
This was the third attempt in two years! GW3MWN/P was on Snowdon. We exchanged extremely strong signals using low power (10mW) gunn diode transceivers and wideband FM. GM3PHO/P was heard on Snowdon at good copy on open waveguide (ie no dish antenna...just the wave guide feed!!)
To reach the top of Carsphairn necessitated a three hour climb with 45 pounds of gear and food in each rucksack. The lads on Snowdon went up by the Snowdon mountain railway....wimps!
This path length is now routine in the late 1990's since the advent of ssb and cw on the 10GHz band. There is no need to climb mountains to work that distance.... a pity really since two hobbies, amateur radio and mountaineering, can be combined to give a great deal of pleasure.
---

RETURN TO HOMEPAGE
---