---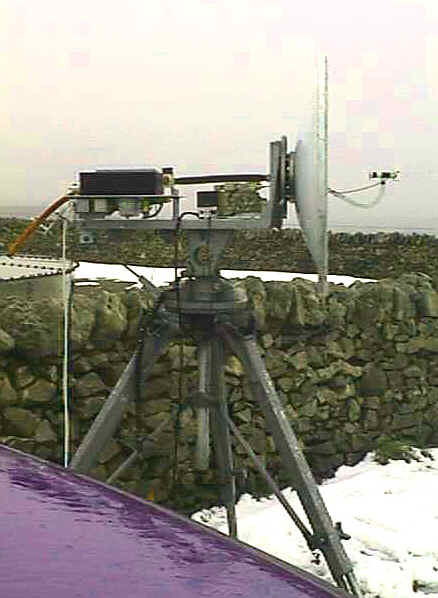 Paul's substantial tripod is here seen holding a 24GHz beacon transmitter retuned to 23.544GHz. This in turn drives a doubler module (mounted at the dish feed position) to 47.088GHz.
This temporary "lash up" arrangement enabled Paul to be heard at RS59+ over the 21km path from this location, Bradwell Moor, IO93CH) to Merryton Low, IO93AD.
Bradwell Moor is Paul's regular site for his microwave portable activity. He can be heard from here during most of the RSGB Microwave Committee Contests each summer.
Paul is a master at getting equipment up and running in a short time! Unfortunately he cannot see his photographs on the Internet as he refuses to even possess a computer!
He is a very experienced portable operator, with equipment for 144MHz, 432MHz, 1296MHz, 5.7GHz, 10GHz, 24GHz and now 47GHz!
His other interest is mountaineering and trekking. He has Alpine and Himalayan experience and this must have been influential in helping him to decide to go microwaving on a day like the one shown here!


---

RETURN TO 47GHz DB6NT PHOTO GALLERY

---