---
PETER ~ G3PYB
---
Peter Blakeborough is a microwaver of long standing, having been professionally engaged in microwaves and broadcasting for many years. After a spell in Jamaica as 6Y5PB, he worked at the ITV complex in Leeds until the early 1990s when he changed jobs to a private company in the South of England and now lives in Letchworth in Hertfordshire. Peter is active on a number of microwave bands, both portable and from home. His latest interest is 24GHz and 47GHz narrowband. He was instrumental, along with others, in getting the Dunstable Downs 24GHz beacon, GB3DUN, on the air during 1996.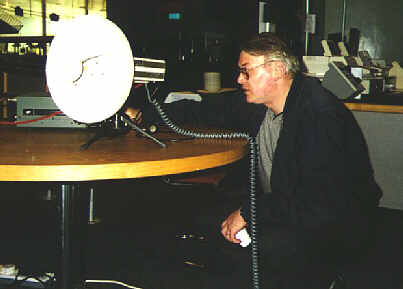 G3PYB is pictured here by the side of his 47GHz narrowband transceiver. This uses a DB6NT designed12GHz source and 200mW PA driving a x4 multiplier which in turn feeds a magic-T mixer and the 10 inch dish antenna. RF output is in the region of 15 milliwatts.
Both wide and narrowband modes can be accommodated with his DC-2GHz IF (scanner RX).
---
---