RAL 2001
A PHOTO REPORT ON THE MEETING HELD ON 8 APRIL 2001
AT THE
RUTHERFORD APPLETON LABORATORY
ENGLAND
Some 44 amateur microwavers signed in at the annual microwave "round table" meeting held at RAL this year. Although the attendance was a little lower than previous years, the event was very successful. The meeting was preceded by a dinner held on the Saturday night and organised by Geoff, G3NAQ. Those attending that had a great time. Unfortunately an RSGB show was also scheduled for the same weekend and a few (less "switched on" ?) folk chose that instead of the gathering of microwavers at RAL!
A good selection of surplus parts and gear was brought by visitors for the swap and barter tables but what would have been snapped up immediately just five years ago (such as 10GHz TWTs and waveguide items) now seems to be relegated to "junk" status! Your webmaster failed to trade his 4 watt 10GHz TWT, complete with power supply and reluctantly brought it back home, to the "horror" of wife Judy who thought at least one piece of the Old Man's junk had gone for ever!
The main talk was given by Dave Stockton, GM4ZNX, who is a chief design engineer with Agilent. He gave us a facinating and humorous insight into the design and associated problems of noise measuring equipment. This was following by a test session, with the emphasis on noise figure measurement using some of the latest equipment. One amateur was seen with what appeared to be around a dozen preamplifiers waiting his turn at the test table! We hope he was pleased with the results!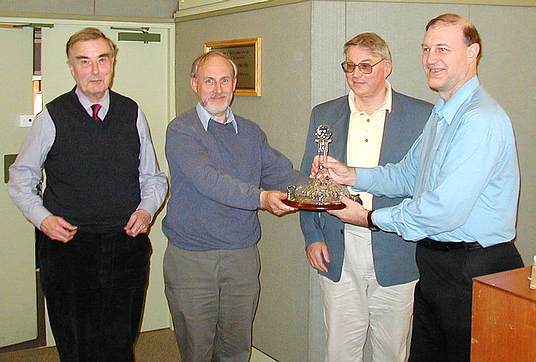 The first event after lunch was the presentation of the G3BNL Trophy by the Chairman of the RSGB Microwave Committee, Julian Gannaway (extreme right in this photo) to the Wessex Millimetre Wave Group (see here left to right: G3FYX, G8BKE and G3PYB ... but missing G8ACE who could not attend) for their outstanding work in equipment construction and operation at 76GHz. They thoroughly deserve the award! Details of their achievements can be found elsewhere on this website.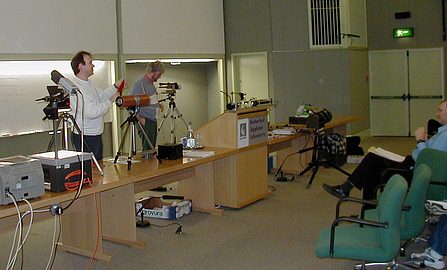 After that we were treated to a most interesting talk and demonstration of amateur lightwave communication. David, G0MRF and Allan, G8LSD brought their laser diode transceivers for their talk and were flabbergasted to see that others had brough lightwave gear as well! We were priviliged to be at what must have been the largest gathering of UK lightwavers the country has ever seen!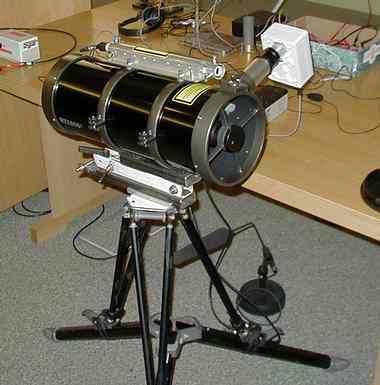 In addition to the four sets of gear brought together by David and Allan, Barry, G8AGN brought his lightwave transmitter and Paul, G6UAJ showed his impressive reflector telescope-based system. He had literally kept all this "in the dark" as even his near neighbour Tim, G3KEU, hadn't known of Paul's experiments at these ultra high frequencies. For those who want to find out more about the simple-to-make lightwave gear of G0MRF, you can visit David's excellent website by clicking this link: http://www.g0mrf.freeserve.co.uk/laser.htm .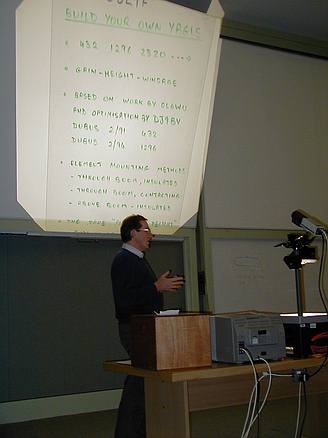 The light wave talk was followed by an informative and thought provoking talk on yagi antenna construction for the 1.2 and 2.3GHz bands. This was given by well-known EMEr Peter Blair, G3LTF. He demonstrated how long yagis for these bands are easy to make from aluminium tube and plastic plumbing fittings, cheaply and easily obtainable from hardware stores.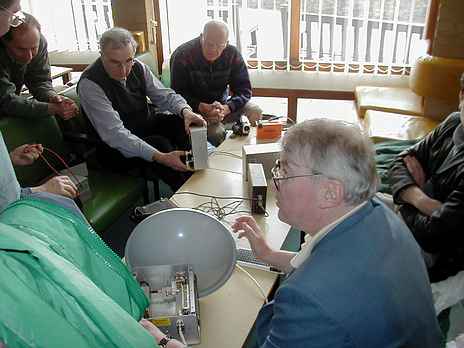 A great deal of enjoyment is always obtained from the chit-chat that takes place between microwavers during the informal sessions in the lounge area. The latest 76GHz equipment built by Roy,G3FYX and Peter, G3PYB was being air tested across the room (SEE PHOTO LEFT) while others "chewed the rag" with friends usually worked over the microwave bands.









Our microwave hobby is something to treasure. Let us all work hard to keep it that way. Keep on building equipment and, above all, USE IT!
Finally here are some close ups of the 76GHz and lightwave equipment seen at the meeting.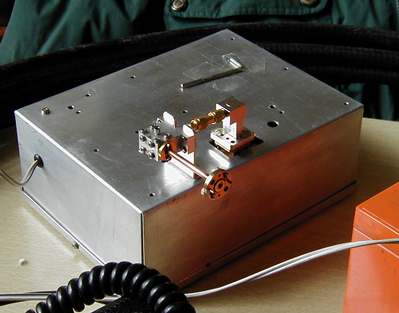 G3FYX's 76GHz transmitter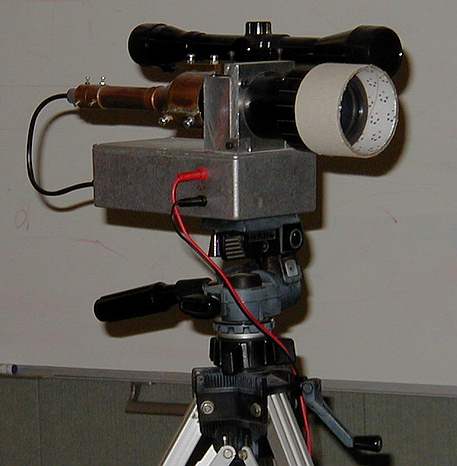 G8LSD's LASER DIODE TRANSMITTER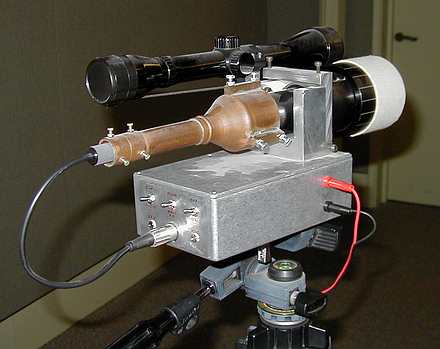 G8LSD's LASER DIODE TRANSMITTER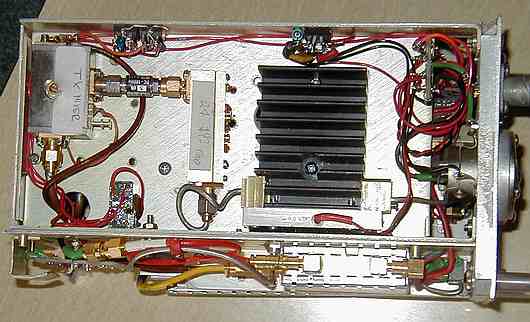 G3PYB's 24GHz transverter (note the Milliwave half watt PA with heatsink)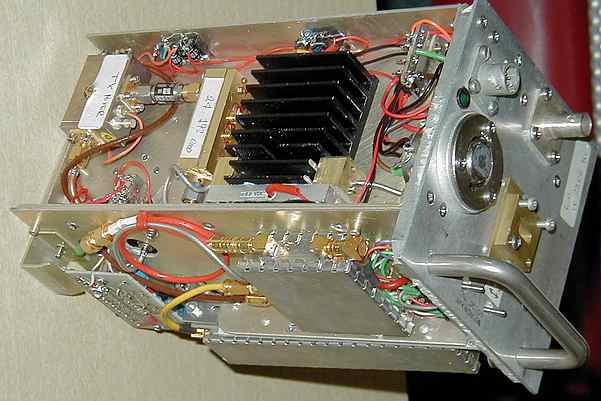 G3PYB'x 24GHz TVTR is very compact!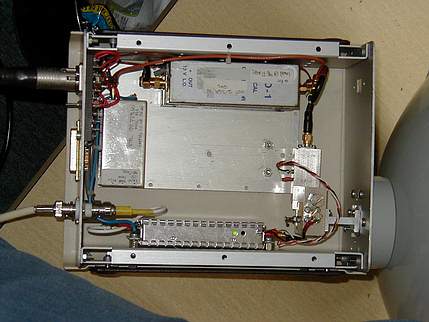 The neat, uncluttered 76GHz system of G3PYB
















---
---