---
STEVE ~ G4KNZ
---
Steve, along with Roy, G3FYX, is co-holder of the UK 47GHz distance record, set up over 65km on the 27th October, 1997. He is a very active portable microwave operator and constructor. He has equipment for most microwave bands, up to 47GHz. His latest interests are the millimetric bands and he has a website devoted entirely to that subject.
Professionally engaged in electronics, he has access to the kind of test equipment that you need to get millimetric wave gear into shape!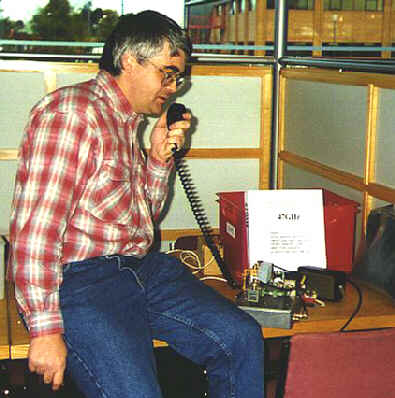 His 47GHz equipment, pictured here at the Martlesham Microwave Round Table in 1997, produces 100 milliwatts from an MA Gunn oscillator with X coupler receiver (using an HP mixer diode). A 10.7MHz IF is used in this wideband FM setup. Steve is fortunate in having a waveguide antenna switch for this band and uses WG22 for both 24GHz and 47GHz dish feed, thus allowing dish alignment to be initially done on the "easier" 24GHz band.
Steve is an active member of the RSGB Microwave Committee and is a former Chairman of it. He lived and worked in New Zealand for a time and was doing microwaves there as ZL2AZQ. He has also spent a short period in Holland.



---
---