MICROWAVE PROFILES No.2
MEET ROGER BOWMAN, VK5NY
JOINT WORLD 10GHz RECORD HOLDER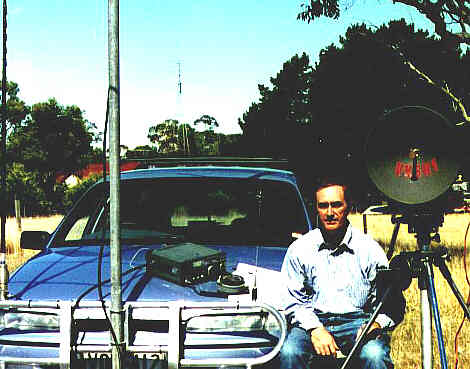 Roger Bowman, together with Walter Howse, VK6KZ, hold the world terrestrial distance record for the 10GHz amateur band. This was achieved on the 30 December 1994 when the two microwavers exchanged SSB signals across the Great Australian Bight, a staggering distance of 1912.1 kilometres! The locations used were:
VK5NY/P near Adelaide, South Australia, PF94HS
VK6KZ/P near Albany, Western Australia, OF84TW
The equipment used at each end of this remarkable contact was modest by present standards....
VK5NY used only 180 milliwatts from a DB6NT design, feeding a 40cm dish with a "penny" feed ( see photograph above).
VK6KZ used a G3WDG design transverter system producing 100 milliwatts to a 40cm dish with a dipole/reflector feed.
The SSB signals were RS41 to RS52. VK6KZ/P was also heard by VK5KK, a few kilometres even further away but no contact was made between these two!
The weather conditions at the time saw a warm high pressure cell centred over the Great Australian Bight.
The microwavers tried to extend the distance over the next few days but with no success.
The previous Australian record was held by VK6KZ and VK6BHT who worked a 545km path between Point Moore and Bussleton in Western Australia. VK6BHT was only using lower power, 70 milliwatts, at the time.
The Great Australian Bight is a microwavers paradise and has, on a number of occasions, produced record-breaking ducts. Distances exceeding 2000 kilometres should be possible. It is at least on a par with the famous Hawaii - California path. Amateurs in both regions are certain to figure in the next world microwave records!
---

RETURN TO FRONT PAGE
---