MICROWAVER PROFILES No.7
Peter Horbaczewkyj ~ G4ZXO
E-mail Address: peterh@hotkeys.co.uk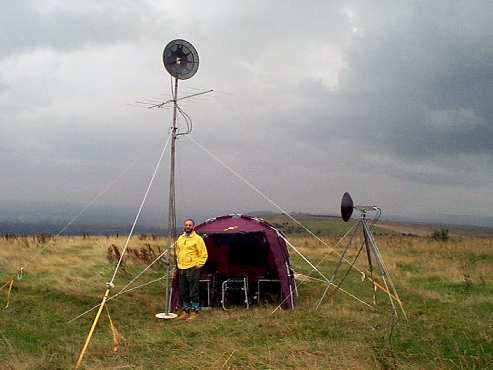 One of the most outstanding UK 10GHz portable stations to emerge in the past few of years is that of Peter, G4ZXO, pictured here during the September 1999 10GHz Cumulative contest. Peter has spent a considerable amount of time and effort getting his 10GHz portable equipment to a standard that competes with the best around.
Having a good, regular location is one very important factor...the location used frequently these days is at Ditchling Beacon, IO90WV, in the South Eastern corner of England.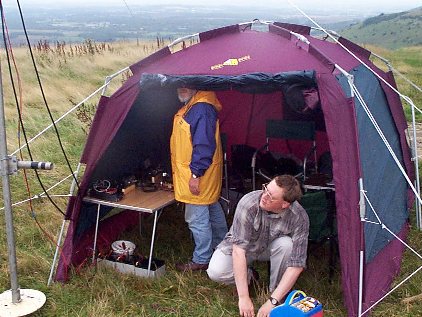 Peter is also fortunate in having a very keen and willing group of operators to form what is in effect a microwave contest team: Julian, G4UET and Jim, G4WYJ.








The equipment has been improved over recent years to that pictured above and described below. Whilst it may look quite modest here, it must be heard to be fully appreciated! It is one of the most consistent 10GHz signals heard in the North of England as your webmaster can readily testify. Not only does the G4ZXO signal get out well, the station is also very good at receiving signals. Read on and study each photo to get more details of this excellent portable station....


G4ZXO's 10GHz station includes the DF9LN oscillator, DB6NT Mk III transverter, DB6NT 10 watt solid state linear and DB6NT HEMT preamp ... all of this is mounted on the 50mm diameter mast shown above.

The 10GHz antenna is a 75 cms ex Halifax forward facing radar dish, with a reduced waveguide double dipole feed. The typical distance worked regularly is 350-400 Kms

G4UET's tripod based system is a standard G3WDG lineup with DDK004 oscillator + WDG HEMT and 1 Watt linear. The dish is ex PW EXE 45cms with a Procom back reflector feed. The typical distance worked regularly is 275-300 Kms.

All kit built by Peter G4ZXO.

Comfort is provided by a Khyam Rigidome L Tent, able to withstand very high winds and heavy rain on exposed locations such as Ditchling Beacon (IO90WV) where the group operates from these days. The tent can be erected in about 15-20 minutes under very windy conditions and is large enough for 3 - 4 people and equipment, cooker etc.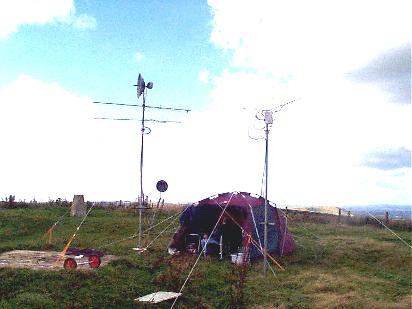 The photo to the left shows the multiband setup on Ditchling Beacon during October 1999.
Bands operated (in addition to the 10GHz station described above):
144MHz talkback: 100 watts + 7 element yagi .
432 (100 watts + 19 ele) for talkback. The "Prime Mover" was an Icom 820H with MM and BNOS linears
1.3GHz: Microwave Modules Transverter 1296 Mk 1 with 2 x Mitsubishi Block (30-35 watts + 23 ele)
2.3GHz: WDG010 + homebrew buffer + DB6NT PA ( 4 watts + 40 odd ele Loop)
All prime movers were FT290r MkI with Mutek (gain turned right down !! )
Power was supplied by 1 x 100amp/hr camping battery and a bank of 4 x 12v
sealed Yuasa lead acid types.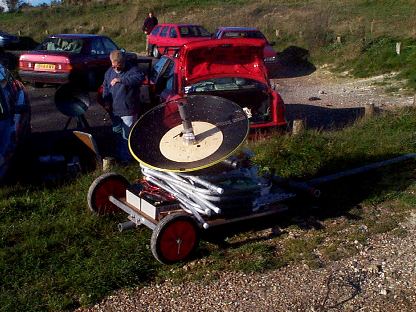 This is a photo of the 'cart' used to get all the kit up to the top of the hill (no cars allowed up there!). It is made out of the dish and vhf beam support mast and a set of detachable wheels. Also shown is the 10GHz dish, batteries and portable seating for the tent.

This portable station, together with its team of operators can operate under harsh weather conditions, as was certainly evident during the September and October 1999 10GHz contests!



Look out for them in future!
---
---