MICROWAVE UPDATE 2000: THE THURSDAY SURPLUS TOUR
AT DOWN EAST MICROWAVE ~ part 2: The Antenna Test Range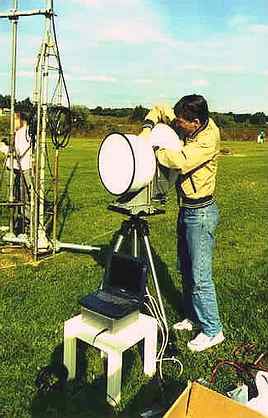 It wasn't an antenna test range in the strict sense ... more of a "Minimum Discernable Signal" setup. A variable output 10GHz "beacon" transmitter was installed at the far corner of the field (just visible in the distance in this photo). People were invited to set up their microwave tranceivers near the house and see how weak a signal they could receive from the "beacon". The amateur shown here had an elaborate DSP receiver for 10GHz and seemed to hear the beacon long after others had lost it!
Note his twin dishes .. two bands and dishes on one tripod. Other stations included some wideband receivers. One fellow had a whole series of N connectors, couplers and right angles, in his 10GHz antenna feed and I could only wonder at the losses he was incurring!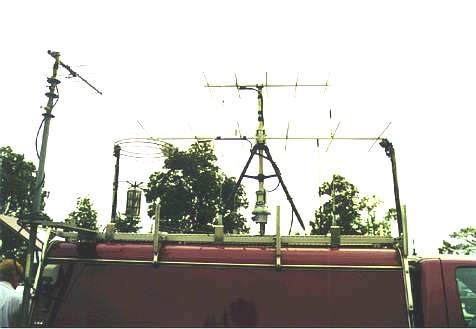 This mobile/portable VHF and microwave station was in in the DEM carpark. These Americans do not do things in halves! Yes, he drives the vehicle away with these antennas on top! This was not the biggest system at Update 2000 as you will see elsewhere in this account!







---
---