MICROWAVE UPDATE 2000
a look back at four great days
by Peter, G3PHO
The links shown on this page will take you to a more detailed account
(with photographs) of that section of Update weekend.
Click on them or the thumbnail photos!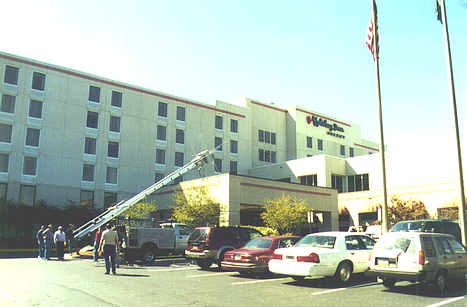 September 28th through 30th, 2000, saw a gathering of over 200 amateur microwavers at the annual Microwave Update. This year it was held in Trevose, near Philadelphia, PA, in the U.S.A. For me it was my first Update, a pilgrimage I had been meaning to make over the past ten years or so. Finally I did it and had a really great time, as you will see if you read on.
Although the convention started on the 27th September, several of us arrived at the Holiday Inn Select, Trevose, on Wednesday night, 26th September. I arrived at the hotel check-in desk at 8pm, after a two hour flight from Chicago where I had been staying with friends, and was initially alarmed to see no other obvious microwaver in sight! The clerk at the desk had never heard of Microwave Update! Guess what? The airport shutle bus had delivered me to the Holiday Inn Express, just a couple of miles down the same road from the correct one, the Holiday Inn Select, pictured above! An hour later, I was in the right hotel, thanks to a staff member coming for me in the hotel courtesy vehicle.
Here there was one familiar sight, Kent Britain, WA5VJB, looking all alone! We had expected some sort of Update check in table but that didn't materialise until the next day. After a meal in the diner across the road (a life-threatening walk of 200 yards across a very busy four lane road which no self-respecting American would think of crossing on foot!) Kent and I returned to the Holiday Inn to meet up with Sam Jewell, G4DDK and his wife Shirley. They had flown into Newark, NJ from the UK that day, hired a car and driven down to Pennsylvania.
Later that night we met Mike Kana, AA9IL for the first time and arranged to do the grand surplus tour next year. This tour had a number of optional places of interest where one could buy, hopefully at cheap rates, various microwave "goodies"! Mike (who had a hire car) and I decided to visit two locations, Down East Microwave in New Jersey and Freddy's place (who was Freddy?!) just a few miles along the turnpike to the west of our hotel. What should have taken less than hour took most of the morning as we found it almost impossible to get off that bl@@#y turnpike! Freddy's place provided a few useful semi-rigid and flexible microwave coax leads with connectors but the highlight of the day was undoubtably the time spent at ...


DOWN EAST MICROWAVE


part 1: In the basement


part 2: Antenna test range


part 3: Flea Market

CLICK ON THE THUMBNAIL PHOTOS FOR MORE DETAILS
It was at DEM that we were able to check our Update registration and get name tags and copies of the Proceedings of Microwave Update 2000, a very useful collection of the papers to be presented over the next two days. This year's edition, unlike previous years, was not printed and bound by ARRL. Instead the Mt Airy VHF Radio Club (Pack Rats) has made it loose leaf in a ringbind folder. Copies are available from Down East Microwave.
With the Surplus Tour over, we returned to the Holiday Inn Select for the rest of the Convention. That night, Thursday, saw the arrival of many well-known microwavers. The "Happy Hour" socialising venue was (fortunately?) directly opposite my room on the third floor! This was the beginning of two days of really getting to know the people behind all those well-known callsigns we had only read about or emailed ..... W1GHZ, W0EOM, WA1MBA, WA7CJO, W5LUA, W1VT, AA9IL, etc ...the list is almost endless! Of course there were more flea markets (!) and an excellent programme of talks. The official Update ended with a fine banquet on the Saturday night, during which I was one of the lucky prize draw winners! However this was not the end of the weekend as Sunday promised more fun at the Hamarama 2000, a flea market par excellence.... see after the Update thumbnails ...
For a more detailed look at what happened at the Holiday Inn on Friday and Saturday, and at Hamarama on Sunday, click on the thumbnail photos in the panel below....






Now this is what I call a Rover Station!




Happy Hour - guess who I found (and where) ?

More flea markets at which to spend more dollars!

"All the King's horses and all the King's men,
Couldn't get that projector working again ..."

The Three Musketeers?

This is where the real action was!

Saturday Night Banquet

Come on down ... you've won a prize!

At the
HAMARAMA 2000
Flea Market



With the Sunday Hamarama Flea Market over, the microwave "madness" subsided. Many new friends had been made and old ones renewed. I was left to "turn out the lights" as everyone had left the hotel by mid-day on Sunday and I had one more night there before catching my plane back to Chicago for a few more days with my wife and our good friends Peter and Ena. During Sunday afternoon I seized the chance to visit downtown Philadelphia, catching the train from Trevose to Market East in the city.
Now I'm back in the UK I am left wondering why we in the UK cannot put on a great event such as Update. We don't seem to have the quality and quantity of microwave surplus for flea markets on the scale of Update. I also believe we lack the enthusiasm for organisation that the Americans display in abundance.
Thanks America and thanks Pack Rats for an eye-opening weekend. Your warm and friendly welcome to us "Brits" will be remembered for a long time..... Now to start planning for 2001's Update in California! See you there!

---
---