ALL THE KING'S HORSE AND ALL THE KING'S MEN
COULDN'T GET THAT PROJECTOR WORKING AGAIN!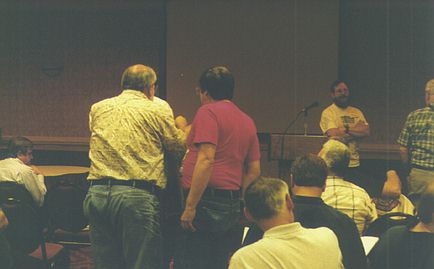 Bearded Paul Wade, W1GHZ, looks on bemused as several hi-tech microwavers attempt to revive the slide projector that "died" at the very start of Paul's talk on Flyswatter Antennas!
After repeated attempts, working of course at light wave frequencies (!), defeat was admitted and a fresh projector was brought in. Many lessons were learned from this incident for future contest operation ... always check the gear before leaving home for the rover expedition, have spare parts handy and always have a hi-tech microwaver on hand for those instant repairs!
By the way, Paul's talk was extremely interesting! He gave an illustrated description of his "fly swatter" or periscope microwave antenna, usable on several microwave bands by merely changing the transverter and feed at ground level. The use of a Highway Dept STOP sign for the plain reflector raised a few eyebrows until Paul explained his young daughter appeared to have collected it as a souvenir during her High School days! We are left to think just what other items of local utility hardware have found their way into the W1GHZ basement!
You can find out a lot more about microwave antennas by visiting Paul's website.
Other fine talks at Update included:

Using Surplus 23GHz modules at 24GHz - by Al Ward, W5LUA
Optimising TWTs for narrow band output - by Jim Vogler, WA7CJO
Log Periodic antennas and Feeds for microwaves - Kent Britain, WA5VJB
13cm Gs9b Amplifiers - by Ed Krome, K9EK
The Allure of Microwaves - by Tom Williams, WA1MBA
Polarisation Primer for EME - by Al Katz, K2UYH
---
---