HAMARAMA 2000 - GRAND FLEA MARKET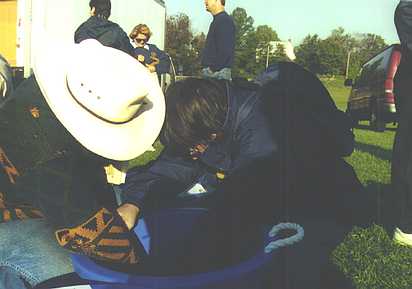 To the right of the guy in the cowboy hat is Dave Robinson, WW2R (G4FRE). He's rummaging through just one of the many plastic bins of surplus microwave bits and pieces brought by the many dealers and amateur traders at Hamarama 2000.
Hamamara 2000 is an enormous Fle Market for the VHF to Microwave enthusiast. It was held at the Middletown Grange Fair Grounds, Penns Park Road at Wrightstown, a few miles north of Microwave Update. This took place on the Sunday morning after Update had closed the night before.
You had to be a very early bird to catch the worms at this event as it opened at 7am !! By 9am much of the really good stuff had gone! Naturally Mike, AA9IL and myself arrived early, deciding to sacrifice breakfast for the cause of microwaves.
The sheer quantity of the surplus available once again surprised this British visitor! It was all in flea market style, much preferable to the semi-commercial type of radio rally that is common in the UK. Not only that, it tended to concentrate on the VHF- up enthusiast ... great for folk like me!
---
---