There's little doubt in the writer's mind that this was one of the best, if not the best, Martlesham meeting we have ever had. Attended by well over 100 microwavers, including well known overseas visitors such as DB6NT, DF6NA, DL3YEE, DL4MUP, DG9BDI, DL4PLM ,PA4ZP, WA5VJB, 9H1LO and ON6UG, it shows just how important this annual November meeting has become in Western Europe.
The photo right:
Left to right: Rainer, DF6NA and Klaus, DL3YEE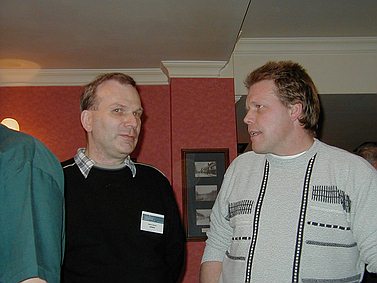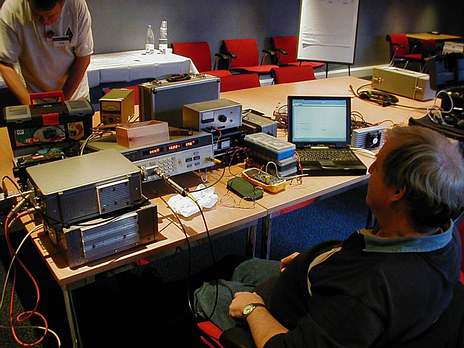 Saturday afternoon saw the test gear already in use by 2pm.This seemed to have a steady stream of folk who wanted to check out their amplifiers, preamps and transverters.
Photo left:
Sam, G4DDK, checkingout the noise figures of G3PHO's 10GHz and 3.4GHz transverters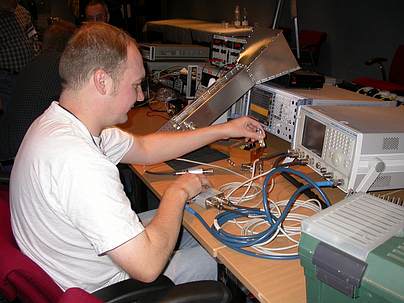 A septum plate feedhorn is shown here undergoing tests on the network analyser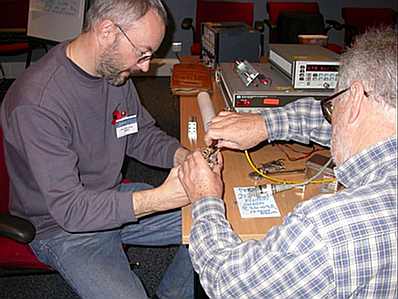 Peter, G4ZXO and Jim, G4WYJ check out some of their 24GHz bits and pieces in preparation for their winter construction project. They hope to be on next year with 2 watts of ssb/cw.
The quantity and quality of the surplus equipment and parts was extremely good, there being some very good items of test gear on sale, including spectrum analysers, noise figure indicators (PANFIs), power meters. The South Birmingham Radio Society table had much of interest, including 3.4GHz PAs and receiver modules. Another table was selling 24GHz half watt amplifiers … they are becoming very common place these day!