This year's event was one of the best ever. Attended by over 100 microwavers from as far afield as New England (USA)it spanned two days (Saturday and Sunday) and included a visit to the oldest RADAR station in the world. We were sorry to see there were none of our usual Continental Europe present. However Holland was represented insome way by G4EZP who also holds a Dutch callsign.
The activities included the following:
Saturday: A visit to RAF Neatishead Radar Museum, near Norwich during afternoon, followed by the Microwave Dinner at the County Hotel, near Ipswich.
Sunday: A Bring and Buy Sale of microwave "junk", talks by Chris Bartram, GW4DGU (Oscillator Design) Grant Hodgson, G8UBN (Modern Microwave components, Paul Wade, W1GHZ (Microwave antenna feeds), Peter Day, G3PHO (Contest and Activity Review) and the Annual General Meeting of the UK Microwave Group.
Throughout Sunday there was much activity around the excellent aray of test equipment made available by BT Adastral Park and an antenna test range set up and run by Sam jewell, G4DDK.
Many of the photos shown here are courtesy of Ralph, G4ALY and Ken, G3YKI ... many thanks indeed OMs!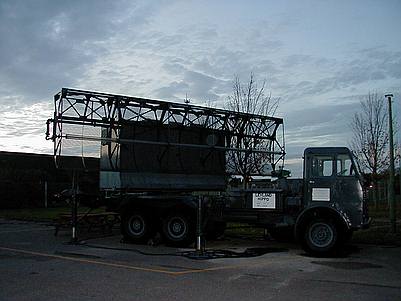 This is one of the outside exhibits at RAF Neatishead Radar Museum. The Museum is located at the site of the oldest radar station in the world. It was a vital part of the UK defence system during World War II and is well worth a visit. Manned on a voluntary basis by mainly ex RAF personnel, the guided tour takes around 1 hour and then you are left to wander around by yourself. There's much to look at ... wartime and more recent radar gear, transmitters and receivers, operation rooms,test equipment and photographic displays. The museum is right next to an active RAF base so be sure you enter the right gate or you'll be challenged by an armed guard, as your webmaster certainly was!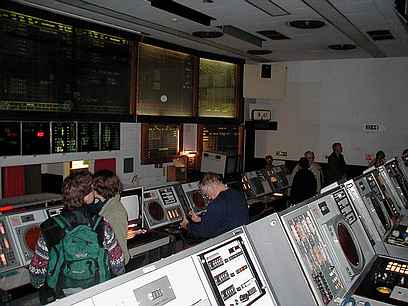 This photo shows the main radar control room, used until relatively recently.