The UKuG Microwave Round Table was held at the Rutherford Appleton Laboratory, Oxfordshire, over the weekend of 16th and 17th April and was a resounding success. While not all of the 90 microwave enthusiasts who initially registered for the event actually attended, a rough head count suggested some 75-80 people were there on the Sunday to enjoy socialising, four lectures, a wide variety of surplus parts on the Bring 'n Buy tables and the excellent cuisine of the RAL restaurant. Saturday saw an Antenna test Range set up at G4NNS near Andover followed by an enjoyable dinner evening, arranged by Geoff Grayer, G3NAQ, at nearby Wantage. RAL attendees included Steve Krull, WB0DBS (Kansas, USA) and Rainer, DF6NA from Germany. Some very encouraging emails were received afterwards and it was obvious that the day had been a great success.
Together with the November Microwave Round Table at Martlesham, it forms part of the UK Microwave Group's annual programme of events for the amateur microwave enthusiast.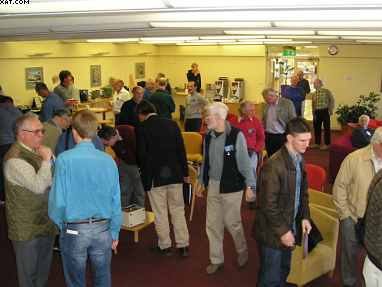 RAL could not take place without the goodwill of the Rutherford Appleton Laboratories authorities and the preparation put in by Dr Mike Willis, G0MJW, and other members of the RAL staff.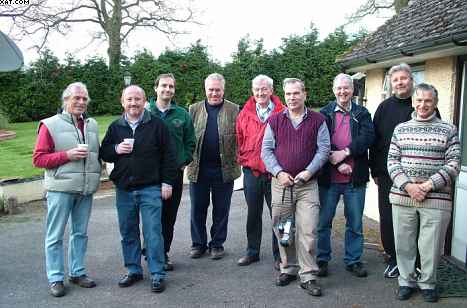 The weekend began at the home of Brian, G4NNS, who kindly arranged Antenna Test Range facilities. The group pictured left shows most of the attendees for this, Brian being the fourth person from the left. Third from left is Mike Willis, G0MJW, who so ably organises the RAL venue every year.
On the extreme left is the "Oscillator Man", John Hazel, G8ACE.
Rainer, DF6NA, is shown here holding his camera
Sam, G4DDK, brought along his now famous antenna test range for 10GHz and is shown here adjusting the system at the receiving end of the range.
Another test range was set up by Brian, G4NNS, for other bands. Standard horns were use to calibrate it.