---
RSGB SANDOWN VHF CONVENTION
FEBRUARY 1998
THE MICROWAVE SECTION
---
The 1998 Sandown VHF Convention drew thousands of visitors to the event. The RSGB Microwave Committee had a small stand and exhibition of homebuilt equipment, plus an interesting lecture programme. The photos shown here depict some of the more interesting millimetre wave gear on show.
If you wish to see any of the pictures in more detail just click on the "thumbnail" versions on this page. To return to these pages, click your "back" arrow.
DUAL BAND TRANSVERTER: 142 AND 248GHz

This dish antenna is part of G0FDZ's 142/248GHz transverter.... yes, those frequencies are correct! Chris displayed a beautifully constructed system for these bands as you can see in the next couple of pictures. Unfortunately Chris has no one else to work on those bands, in the UK that is...... he would have to find an excuse to visit Denmark or Germany if he wanted to have contacts!

This photo shows the inside of Chris's millimetre wave transverter, the only one of its type we have seen in the UK. The larger of the two tinplate boxes appears to be a G4DDK004 master oscillator module. These excellent units are available in kit form from Petra Suckling, G4KGC as part of the Microwave Components Service. You can also find more details about the oscillator module by visiting G4DDK's website.
Note the high standard of home construction here. Chris pays the most stringent attention to detail and this included the homemade cabinets in which the circuitry is housed. All his equipment is finished to a professional standard.

The front panel view of this remarkable transverter shows separate metering for battery voltage and current, plus mixer monitoring on both bands.
Note also the sighting telescope fixed to the top of the unit.... quite essential on what are still line-of-sight bands!
LECTURE BY THE 47GHz "TEAM" ~ G3PYB. G4DDK, G8KMH, G8DKK
The team of keen 47GHz enthusiasts gave a very interesting and practical demonstration of both wide and narrowband equipment.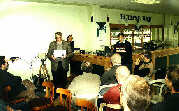 In the photograph shown here, Peter, G3PYB, describes his crystal controlled, narrowband transverter. It produces around 15mW output to a small dish antenna. the IF is 1296MHz although he often uses a scanner so that he can receive other, often wider, modes used on the band. Most of the audience had no experience of this interesting band as equipment and parts are still hard to come by. However, there are kits available (by DB6NT) to make low power transverters for 47GHz and even higher.

Lehane, G8KMH, attempts to radiate a 47GHz 100mW wideband FM signal across the room to G3PYB who is using his crystal controlled transverter with a wideband scanner IF. Lehane's 100mW wideband system is shown here and is described elsewhere in these webpages.

Path loss calculations for the types of equipment shown at Sandown indicate there is little to choose between the potential of the 100mW wideband systems, the microwatt narrowband ssb/cw systems and the lower power (10 to 15mW) narrowband FM equipment, as used by G4DDK. The challenge ahead of all UK 47GHz operators is to break the 100 kilometre barrier. Who will be the first?
---

RETURN TO FRONT PAGE
---