---
INTRODUCING THE MICROWAVE BANDS...

---
Over the past 50 years or so I have concentrated on the MICROWAVE BANDS ...those amateur allocations above 1GHz (1000MHz). The photos you can see on this site show some of my activities and those of others in this fascinating area of amateur radio. I hope to encourage people like YOU to take up microwaves for yourself!
It's not difficult to get started in microwaves. In fact, if I can do it, you certainly can! If you look in the excellent RSGB's web pages you can find some useful information to help you. The pages were written by Steve Davies, G4KNZ and Lehane Kellett, G8KMH. Like myself they were members of the now defunct RSGB Microwave Committee.
---
The 10GHz BAND.
I have worked many stations on this fine band. In the 1970's I began with simple klystron and Gunn diode transceivers but moved up to ssb/cw in 1991 on acquiring a surplus MA/Comm unit which was easily modified to become a 10GHz transverter. It is driven with just a few milliwatts of 144MHz from an Icom IC202S hand held transceiver. I added a two stage GaAsFET preamplifier and a 1 watt RF amplifier to this 10GHz transverter. In 2000, after almost ten years of using the MA/Comm surplus unit, I made a new, more powerful (5 watt) transverter based upon a kitset from DB6NT.
Under normal conditions, from a good location, the range of the 1 watt gear is in the order of 400km but much greater distances have been achieved during enhanced conditions. Enhancements occur during rainstorms (= "rainscatter") and tropospheric ducts. In October 1994, there was a period of outstanding "tropo" during which I was able to work over 600km into Germany. Stations in the Netherlands were also contacted. Other UK amateurs worked much further, many over 1100km! My gear at this time was /portable in my bedroom(!) with the dish just aimed through a double-glazed window!
This photo shows my first 10GHz portable 1 watt ssb/cw transverter with 60cm offset fed dish antenna.
The assembly is mounted on a sturdy tripod which has a graduated compass scale to allow rapid setting of beam headings...important when it is raining and a quick dash from the VW Camper wasneeded to reset the dish heading!

This second photo shows the VW and 10GHz microwave gear set up on the top of Alport Height in Derbyshire, ready for the start of a 10GHz Cumulative Contest. Click on it to get more details and a bigger picture!
In the year 2000 I changed vehicles and improved my portable microwave station and antenna at the same time. You can get more details by clicking here.
I have plans to set up a dish for home station use but my location is very poor. However, with enhancements such as "rainscatter" I hope to work some good UK or even Eu DX at times.
The most popular microwave band in the UK is possibly 10GHz. Every month (usually on the last Sunday) there is a 10GHz Cumulative Contest. If you are in the UK you can listen to the talkback or liason contacts for this contact as they take place around 144.175MHz (the microwave talkback calling channel). The contest takes place between 0900 and 2100 GMT. Activity is divided approximately 50:50 into portable and home stations. Most portable stations run around 1 watt cw/ssb output to dishes up to 1.2m diameter. Satellite TV dishes (60 and 80cm diam,) are also very popular with portables. Home stations use from 1 watt to as high as 60 or 100 watts in some cases! The essence of 10GHz is HOME BUILT equipment. If you like home brewing then this is the microwave band for you! You can operate most modes here, especially cw, ssb and ATV.
On August 18th, 1995, G3WDG worked VK2ALU in Australia by using 10GHz E.M.E ("Moonbounce") techniques....the ultimate microwave achievement? Sadly VK2ALU, who become VK6SLU, is now "Silent Key". There is are photos of both G3WDG's and VK2ALU's dishes in the PHOTO ALBUM.
Another popular band is 1296MHz.
At the present time there are hundreds of UK amateurs with equipment for this band, much of it commercial, but there is surprisingly little activity outside of contests. It takes a good "lift" in conditions to tempt people into operating outside of the contests! Coax-fed yagi type antennas with ssb/cw power outputs of dozens and even hundreds of watts are quite common. This is a very good band on which to start microwaving. SG Labs of Bulgaria market a beautiful little transverter which produces 2.5 watts and costs around £150 in 2020. They also make a matching 20 watt PA.
24GHz, 47GHz and even higher ........
I used wideband FM on 24GHz for some years. The photo shows my wideband FM transmitter/receiver mounted on a 35cm offset fed dish. My best DX with this setup so far is 146km.
For more details of my wideband gear CLICK HERE TO ENLARGE THE PHOTO


I have built a narrowband (cw/ssb) transverter for 24GHz. CLICK HERE FOR DETAILS
In the past few years we have seen UK amateurs develop sophisticated equipment for the 24GHz, 47GHz, 76GHz and 145GHz bands. Originally there was a lot of wideband FM used on these bands but, by 2001 narrowband modes such as cw and ssb became the "modus operandi" right up to 145GHz!
There are surplus, ex digi-comms equipments around from time to time. In early 1996 a large quantity of 22/23GHz transceivers by Digital Microwave Corporation became available to UK amateurs. Many of these so-called "Grey Cubes" were modified for ssb/cw/nbfm use on the 24GHz band.
Today, however, the main source of equipment for the millimetre bands is the large range of kits and ready made items from DB6NT of Kuhne Electronic in Germany.


2.3GHz, 3.4GHz and 5.7GHz.......
These are our "middle" microwave bands and a renewed interest is presently being taken in them, especially 2.4GHz as it became a very important part of the recent Phase 3D (AO40) satellite program. Terrestrially, there is relatively low activity on these bands but a number of UK amateurs are now actively developing equipment for them. During 2001 to 2003, surplus solid state power amplifiers for both the 5.7GHz and 3.4GHz became easily available on the UK market. Combned with the excellent DB6NT series of microwave transverters, they make potent equipments for both portable and home station use. Examples of these, built by G3PHO, can be found in these webpages by clicking onto the links below ...
A transverter for the 5.7GHz band
A transverter for the 3.4GHz band
---
WHAT CAN I WORK ON THE MICROWAVE BANDS?
This map (click on it for a full size view) shows just a small portion of what was worked by UK amateurs on 10GHz during 1995. Only contacts exceeding 500km are shown. There were hundreds below that distance!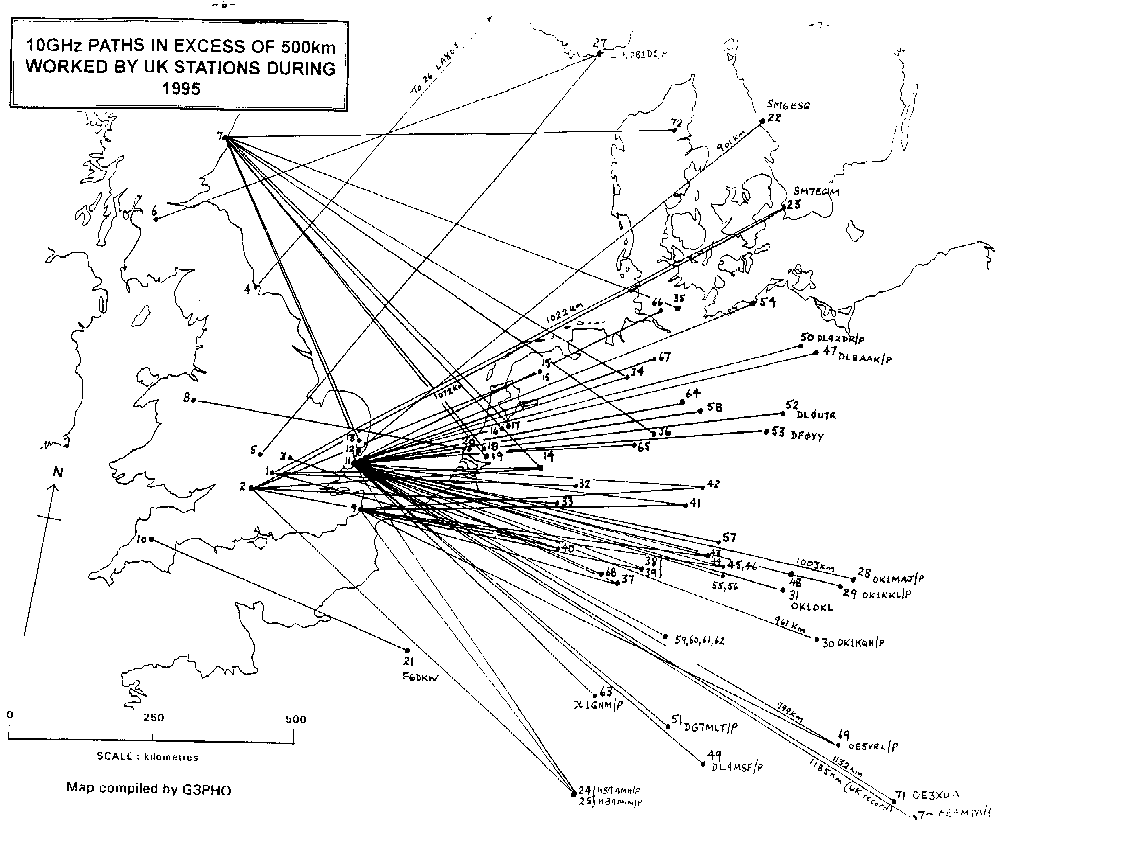 The map was taken from the RSGB MICROWAVE NEWSLETTER
I was its editor from 1984 to 2004
In 2004 the newsletter was taken over by the UK Microwave Group and for some years I remained its editor under the new newsletter name of SCATTERPOINT.
Full details of the UK MIcrowave Group can be obtained from its website:
FOR MORE INFORMATION YOU CAN E-MAIL ME (G3PHO) AT:
---

PHOTO ALBUM INDEX (For more microwave pictures..)
---